With Mother's Day fast approaching, it's time to start dropping some not-so-subtle hints to the chief present buyers in your house!
Aside from the obvious choices of flowers, chocolates and a lovely long lie-in (who am I kidding?!) it's nice to receive something that's a bit more personal and in my case that means anything which celebrates being a mum of boys.
My two might send my stress levels through the roof but I'm proud of my status as a boy mama and I just love gifts that serve as a reminder of that. I've been scouring the web to find the best gifts for fellow mums of boys so here's a little round up of my favourite finds:
1. Maker of Boys Organic Top (£22 - Blueberry Boo Kids via Not on the High Street)
This little family run business shot to fame recently when the lovely
Giovanna Fletcher shared a pic
of her wearing one of their 'Maker of Boys' tees. These super cute tops are made from 100% organic cotton and feature a high quality, baby safe vinyl design. There's loads of different styles to choose from too, so you're bound to find one you like.
2. Maker of Boys Pin Badge (£7.95 - Blueberry Boo Kids via Not on the High Street)
If you want to share your boy mama status in a slightly more subtle way then you'll be pleased to know that Blueberry Boo Kids also do a range of accessories which includes this soft enamel pin badge. Perfect for bags, jackets or even work lanyards!
4. Mum of Boys Necklace (£12.00+ - Second Star UK via Etsy)
If slogan tees aren't your thing then how about something a little more dainty? These beautiful necklaces are totally customisable with the choice of either 'mum' or 'mom', a selection of birthstone charms and the option to add as many additional names and discs as you like. Each letter is stamped by hand too so this gift couldn't be any more unique.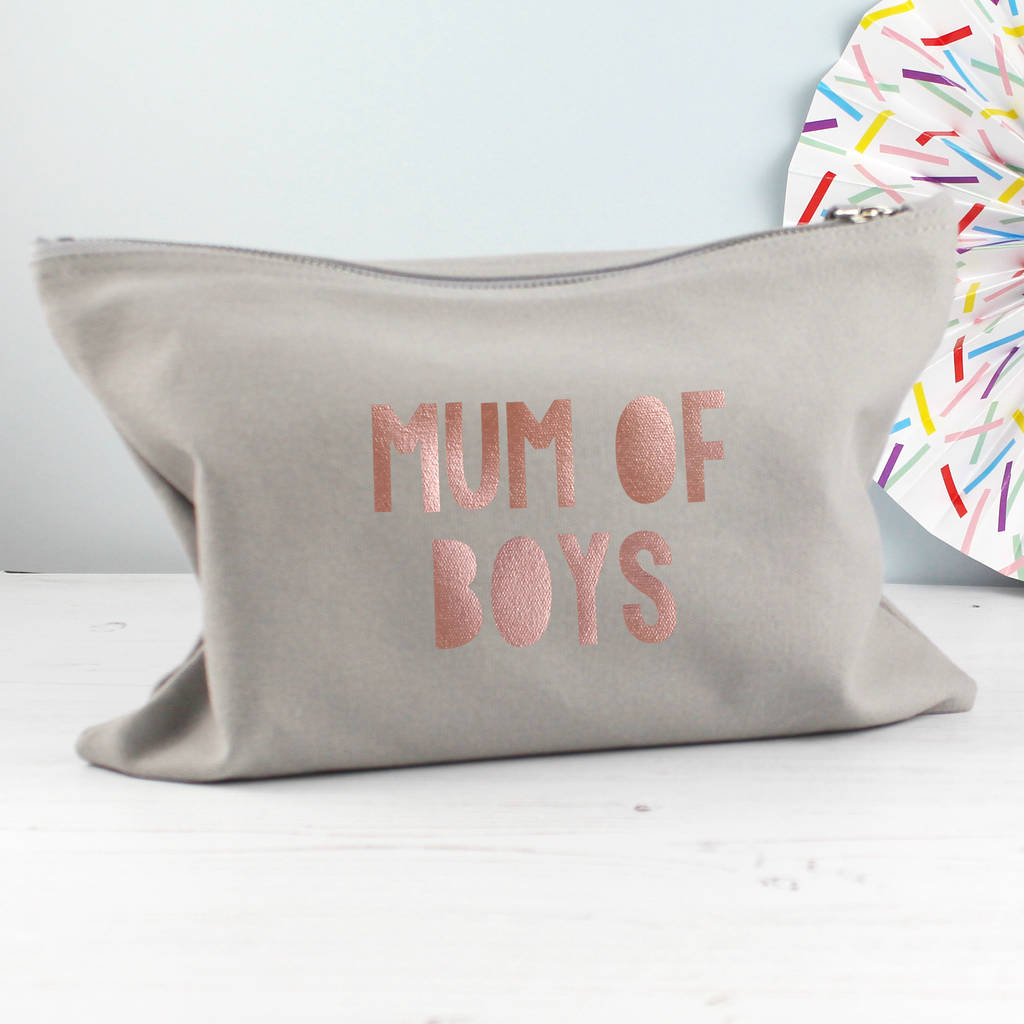 5. Mum of Boys Make Up Bag (£16.00 - Betty Bramble via Not on the High Street)
I'm a little bit in love with anything rose gold at the moment and this make up bag is no exception! It makes a great gift for anyone who has to hurriedly put their make-up on in between breaking up brotherly play fights (or maybe that's just me?!)
6. Mum and Son Twinning Set (£31.50 - Whoopsie Daisie)
I know some people find it a bit cheesy but I just love matching outfits! Whoopsie Daisie is another lovely small business run by mum Tara who understands how hard it is to find twinning tees for boy mamas. She's got it just right with this stylish, metallic design and a heart melting slogan (which you just know you can embarrass your boys with when they're older!)
7. Blessed with Boys mug (£9.99 - AC Designs Ltd)
In my experience, bringing up boys requires an awful lot of caffeine! AC Designs Ltd do a whole host of boy mum goodies but this mug is my personal favourite - not only is the design simple and sweet, but it's also perfect for refuelling with coffee throughout the day (until it's time to crack open the wine!)
Practical gifts will always be appreciated, especially if they help to make life that little bit easier!
This book is aimed at parents of slightly older boys (aged 3-13) and promises to help them cope with the 'unique challenges of raising motivated, cooperative and confident boys'. I've got to admit that I haven't actually read it myself but after receiving so many recommendations, it's only a matter of time before it makes its way into my basket...
(Disclaimer: 1. This post contains my own choice of products and is in no way endorsed by or sponsored by any of the brands mentioned. 2. This post may contain affiliate links which means we receive a tiny amount of money if you click through and purchase the product. These links won't cost you anything to click but will help to keep our blog going.)